With the latest advancements in renewable energy technology and storage, it is easy to lose sight of the grassroots level actions that we can all implement, with minimum investment of time or money required, to significantly reduce our corporate carbon footprint.
By focusing on energy efficiency as an immediately effective means of managing workplace energy needs, businesses can easily grow sustainably while seriously reducing overheads.
There are literally hundreds of basic steps that you can implement today to achieve this goal. We have listed our top 10 to get you going.
1. Install Light Dimmers
Fitting dimmers will allow you to manually reduce your electricity usage in areas that have good natural lighting for at least part of the day.
2. Label Switches
Clearly marking power switches with their relevant purpose is an incredibly easy, yet effective fix. Staff will only be turning on the required lights or power source and, in turn, will be preventing wasted energy from unused lighting.
3. Switch to Efficient Light Bulbs
It is well worth investing a little time and money in energy efficient light bulbs throughout your workplace. CFLs are your best option for indoor lighting and LEDs are a great alternative to fluorescent lighting for exit signs and most outdoor signage.
The graphic below from Energy Rating shows how this one very simple change has the potential for significant savings.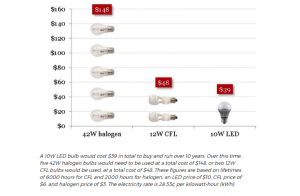 4. Invest in Motion Sensors
By installing motion sensor lighting in bathrooms, storage cupboards and other areas that are frequently empty, you have the potential to save a significant amount on wasted energy consumption when lights are accidentally left on.
5. Invest in Timers and Smart Control Systems
Installing timers and other smart systems that shut off power to devices when they are not in use is another simple yet effective method of reducing energy consumption in the workplace.
6. Turn Off Vending Machines
One easily forgotten source of energy consumption is the unassuming office vending machine.  Providing that it stocks only non-perishable items, your workplace vending machine can easily be set on a timer or manually switched off out of office hours or on weekends when the building is closed.
7. Install Window Coverings
Investing in some good quality blinds will reduce the need for heating and cooling outside of extreme conditions and result in more efficient energy consumption.
8. Ensure Efficient Use of Air Conditioners
By setting the room area temperature at 18 degrees in winter and 25 degrees in summer, your workplace can significantly save money and energy on inefficient temperature control.  You will also eliminate the need for jackets in the workplace during summer – something Queenslanders are often accustomed to.
9. Laptops Over Desktops
Where it is ergonomically appropriate, replace end-of-life desktop computers with laptops. Laptops use 90% less power than the standard desktop computer. Buyequip can collect your end-of-life desktops. Book a collection now.
10. Rally the Troops and Resources
The best way to ensure a sustainable workplace is to have engagement and input from all staff.  Run a monthly competition for the best energy saving idea, form a 'Smart Committee' to take charge of certain areas, and make sure your internal communications team promote energy efficiency as a recurrent theme.
There are endless online resources with templates and thousands more tips on workplace sustainability. Remember, the drive to save money, energy and our environment is powered by each of us.